Quick Menu
Daily Readings

Altar Servers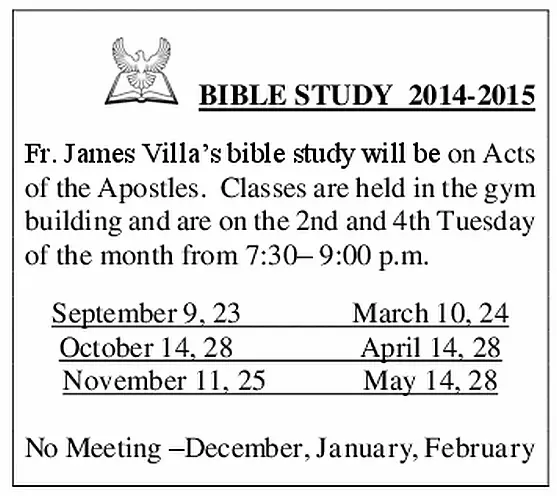 When you want to know what God wants to say....Read THE BIBLE...
Have you read His best seller? It's quite a challenge!...
Bible Study at Most Holy Trinity, which has been in existence for the last 22 years, takes place every 2nd and 4th Tuesday of the month at 7:30 pm, from September to May.The program is conducted by Reverend James Villa, O.F.M., an expert in biblical studies and a wonderfully giften communicator. The aim of our Bible Study, as described by some of the people who attend, is to help us read and understand the message of the bible in relation to our day-to-day Christian living. To understand the significant aspects of the church's life from the point of view of scripture. We hear scripture read at each Mass. Bible Study helps you to understand its meaning more deeply and more clearly.
Come join us…religious education is not just meant for children as they prepare for the sacraments. This program is Adult Learning at its best!
Upcoming Events
Mon Jul 13 @07:00

-

08:00PM


PRAYER MEETING
Fri Jul 17 @09:00

-

05:00PM




EUCHARISTIC ADORATION
Alternative flash content
To view this Flash you need Javascript on your browser and updated version of flash player.
Most Holy Trinity Counter
YOU ARE VISITOR NUMBER





| | | |
| --- | --- | --- |
| | Today | 3503 |
| | Yesterday | 9342 |
| | This week | 57651 |
| | Last week | 54828 |
| | This month | 92859 |
| | Last month | 218226 |
| | All days | 1757431 |
---
We have: 163 guests, 1 members online
Your IP: 207.241.237.211
Mozilla 5.0, 
Today: Jul 11, 2015
Visitors Counter
Contact
MOST HOLY TRINITY CHURCH
320 East Boston Post Road
Mamaroneck, New York 10543
(914) 698-5944
Fax (914) 698-5274
E-Mail:
 
Catholic Links
The Archdiocese of NY

U.S. Catholic Bishops

Sisters of Life

The Holy See (Vatican)

FatherBenedict.com

Family Life Respect Life

Sisters of Charity

Daughters of St. Paul

Franciscan Sisters of the Renewal

NY Catechetical Office

NY State Catholic Conference

Dominican Sisters of Hawthorne